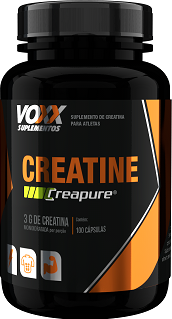 About

Creapure, premium creatine brand, increases workout performance, provides energy, slows down fatigue and helps increase muscle strength.

Presentation
Portion of 3.6 g (4 capsules)

Amount per serving

%DV(*)

Creatine

3,0 g

**

"It does not contain significant amounts of calories, carbohydrates, protein, total fats, saturated fats, trans fats, dietary fiber or sodium" *% Daily Values ​​based on a 2,000 Kcal or 8,400kJ diet. Your daily values ​​may be higher or lower depending on your energy needs. ** Daily value not established.